Alloy Gutter Company offers roof-raking and snow removal from roofs. We also can apply calcium chloride to melt the snow. This helps to prevent ice damming and also removes the heavy weight of snow from the roof that can cause damage or even a roof to cave in. Removing snow from a roof can be dangerous, why not have an insured expert take the stress out of taking care of your roof. Call today for a free estimate or to discuss any questions you might have.
Heavy Snow Can Cause:
Cave In's

Water Intrusion

Warping

Rotting

Brown Stains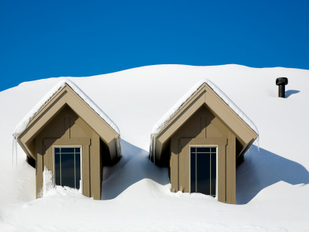 We rake 3-4 feet up from the roof edge and apply calcium chloride to the gutters and the raked areas. This allows a pathway for melted snow to reach gutters and alleviate ice damming. We do not chip away ice or shovel snow from roofs, as those actions can cause damage to roof shingles. Please note that calcium chloride is most effective at temperatures above 20F.