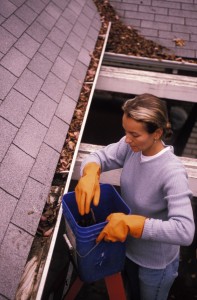 Gutter cleaning is an essential part of exterior home maintenance. Freeing your gutters of debris allows rain water to flow through your gutters and down your downspouts just as it is designed to. This is important all year round, but it is especially critical that they are cleaned before freezing temperatures and the winter hits.
If debris is left in your gutters at the end of the fall, as soon as the freezing temperatures hit, the debris in your gutters will freeze as well. Having your gutters cleaned before the winter also helps to prevent dreaded ice dams. The weight of snow and ice in your gutters, made heavier by rock-hard, frozen solid debris, can pull gutters off of homes in the winter. Once freezing temperatures hit, you have missed the opportunity to avoid this problem and have your gutters cleaned. Gutters cannot be cleaned until a thaw. It is super important to handle your gutter cleanings before it is too late in the season. Many customers call us after the debris has already frozen, and at that point, it is too late.
Besides that, here are so more reasons for having your Gutters Cleaned:
Clogged gutters can cause damage to your roof
Clogged gutters are a hub for pests and rodents, as well as mold and honeycombs from bee infestations (and standing water also attracts mosquitoes!)
Clogged gutters can cause water to drip or flow too close to your foundation, softening the soil around it and leading to foundation cracks (we all know it is important to keep a home's foundation in tip-top shape!)
Clogged gutters can damage the fascia board behind your gutters
Why Choose Alloy Gutter for your Gutter Cleanings?
We've been in business 44 years
Gutters (and downspouts, and leaf protection, and gutter cleanings) are all we do (so we know a thing or two about cleaning them)
We are licensed and insured
Our technicians are highly trained and knowledgeable, equipped with what they need, and experienced problem solvers
Allows you to avoid precariously climbing ladder and cleaning your own gutters
Saves you the time and headache of gutter cleaning by using the professionals
Keep us in mind every year when the season for gutter cleanings roll around!
We have many return customers that have been satisfied with our work at their homes that call us every fall! Join the ranks!