Why Rain Barrels?
Even if you do not give much thought to the big green machine, rain barrels can help you go green in more places than your environmental footprint, namely your wallet!  Contractors, homeowners may be interested to know …Reasons to Consider Rain Barrels:
Rain water is naturally soft, so it is better for washing your car and watering indoor plants than tap water.

Save money! Use the water you've collected to water outdoor plants – reducing your water and sewage bill!

Saving your rain water is a good backup source of water for times of drought or in between rain showers.

Rain Barrels can help improve the aesthetics of your house, as they can be beautiful and add lots of character to your home and landscaping.

Due to the large variety of rain barrels in both size and aesthetic style, we ask that customers choose and purchase their rain barrels and have them on site before their installation. For these reasons, we do not carry rain barrels in stock.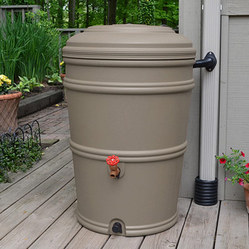 Will you really save money??
YES! According to the US Environmental Protection Agency, 40% of water consumption is used for garden and lawn irrigation.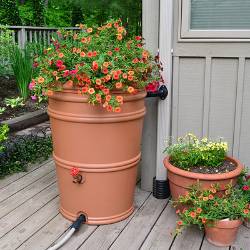 60 Gallon Barrels

A convenient size for decks, patios and balconies

USA Made – from durable food grade HDPE resin

Sealed system resists insects, and algae growth

Includes diverter and all parts needed for installation

Child and pet safe

Please call for color selection