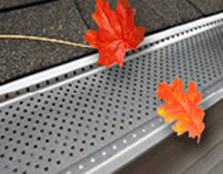 Strainer Style
Strainer is installed to fit snugly to the top of your gutters with zip screws that secure it to both the front and the back of your gutter.
The low profile of the Strainer style leaf protection makes it virtually invisible from the ground or the sidewalk (hello, curb appeal!)
Strainer lays flat on top of the gutter, so there is no penetration of your roof shingles; this means there is no compromise to your roof warranty.
Strainer style leaf protection features a hi-temper aluminum mill finish.
It will never rust or rot.
Panels are 10' each and can be easily replaced in the event that a section is damaged.
This product's capacity for taking on rain water greatly exceeds the U.S. record for rainfall amounts.
How It Works:
Rainwater from your roof drains through the 1/8" perforated holes.
Leaves, twigs, pine needles, and even the smallest of debris are suspended on top of the panel. Air circulation through the Strainer allows the leaves and debris to dry up and blow off with the wind.
Field tests of Strainer show that the filtration system will continue to function when covered with wet leaves and debris.
Color Available: