Why Do I Need Leaf Protection? (or gutter guards, or gutter covers – toMAYto, toMAHto)
Well, do you enjoy getting out a ladder, moving it around your house, and cleaning your dirty gutters? If your answer is no, then you would benefit from a leaf protection system. Leaf protection eliminates the need to lug out a heavy ladder and climb to precarious heights in order to scoop out leaves and gunk.
The purpose of leaf protection is to stop miscellaneous airborne debris and leaves from getting into your gutters. Without gutter guards, you are running the risk of the aforementioned junk blocking the flow of your gutters, downspouts, and even your underground drains (if applicable).
Gutter guards reduce the amount of hands-on maintenance you have to spend on your gutters. I don't know about you, but we like things that we can install and (somewhat) forget about.
Leaf protection also assists in keeping vermin out your gutter system. It helps to eliminate stagnant water from sitting in your gutters – which is a breeding ground for all things gross and undesirable.
Gutter guards are also helpful in the winter, because they will prevent debris from going into your gutters and freezing, causing your gutter system to have weighty build up that can eventually pull your gutters away from your house.
Helmet Style
This style of leaf protection is capable of handing any rainfall ever recorded.
It is available in 15 colors, including copper, to match your new or existing gutters.
Helmet style leaf protection features a low profile since the panels install under your gutter, which adds to your curb appeal. (We see you, resale value!)
Each panel of helmet style leaf protection is 4 feet long and can be replaced easily in the event that an area is damaged by a falling tree limb, hail, or something else unexpected and annoying.
Aluminum end caps and miters enclose the system to ensure debris and animals stay out.
How It Works:
Helmet style works based on the scientific principle of water adhesion. The design allows water to enter the gutter, but keeps it free from leaves and debris.
Colors Available:
White
Pearl Gray
Royal Brown
Cream
Tuxedo Gray
Musket Brown
Almond
Black
Red
Clay
Bronze
Green
Ivory
Wicker/Sand
Dark Bronze
Copper (special order)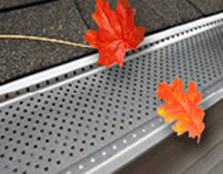 Strainer Style
Strainer is installed to fit snugly to the top of your gutters with zip screws that secure it to both the front and the back of your gutter.
The low profile of the Strainer style leaf protection makes it virtually invisible from the ground or the sidewalk (hello, curb appeal!)
Strainer lays flat on top of the gutter, so there is no penetration of your roof shingles; this means there is no compromise to your roof warranty.
Strainer style leaf protection features a hi-temper aluminum mill finish.
It will never rust or rot.
Panels are 10' each and can be easily replaced in the event that a section is damaged.
This product's capacity for taking on rain water greatly exceeds the U.S. record for rainfall amounts.
How It Works:
Rainwater from your roof drains through the 1/8" perforated holes.
Leaves, twigs, pine needles, and even the smallest of debris are suspended on top of the panel. Air circulation through the Strainer allows the leaves and debris to dry up and blow off with the wind.
Field tests of Strainer show that the filtration system will continue to function when covered with wet leaves and debris.
Color Available: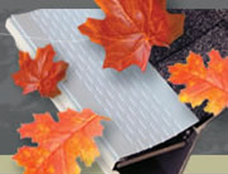 Shelter Style
Leaf Shelter is installed under the first course of shingles and securely screwed to the top lip of your gutter.
Shelter style leaf protection has a low profile that is barely visible from the ground.
How It Works:
This product's Aluma Flow Louver System is engineered to handle heavy rain falls on any roof pitch, from almost vertical to flat.
Colors Available:
White
Light Bronze
Clay
Royal Brown
Copper
Almond
Black
Ivory
Musket Brown
Wicker
Light Gray
Green