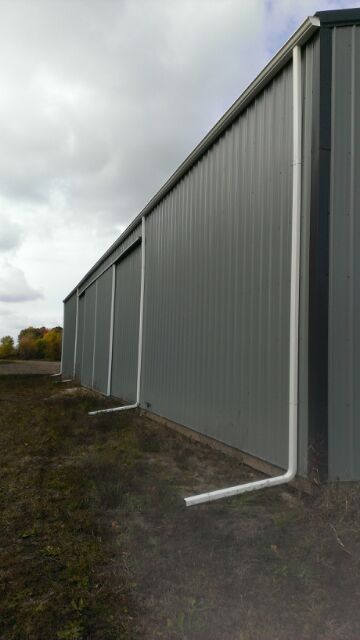 What Are Seamless Gutters?
Seamless rain gutters, ("eave troughs" for you octogenarians), are the shining stars of water management at your home. Seamless gutters collect the rain water that hits your roof, and the downspout deposits that moisture safely away from the foundation of your home.
What Are Seamless Gutters Made Of?
Our seamless gutters are made of aluminum and they are formed at your home for a precise and custom fit. The gauge of our 5" Residential Gutters is 0.27. The gauge of our larger 6" Commercial Gutters is 0.32.
* Our 5" gutters can be made in the heavier gauge, but we don't often see the need for this in the typical home installation.
What Seamless Gutter Colors Are Available?
We stock over 30 colors of aluminum gutter coil at all times. Odds are that we have whatever color you need in stock right now. This is one of the reasons we are so quick in our installations. The color on the gutters is a baked on enamel finish that will not chip.
How Should I Choose My Gutter Color?
Most homeowners choose to match their trim color. Some choose to match their roof color so that the gutter system blends into the roof, but we do not see this as often. Usually, the trim color is where it's at. The choice of color is based on homeowner preference and desired aesthetic.
What Is Your Warranty on Workmanship? How About Materials?
We provide an 18-month warranty on our installations. This allows the homeowner to see their new gutter system withstand all 4 seasons of weather. That seems pretty fair, right? If there are any problems within the warranty period, we are sure to take care of our customers to their satisfaction.
Our materials have a 30-year manufacturer warranty.